Engine Mountings Manufacturer & Supplier in Delhi, India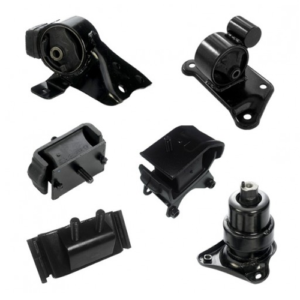 NKL Automotives is a leading Engine mountings manufacturer in India. We manufacture a wide range of engine mountings that are widely used by our automotive industry. Our engine mountings are long-lasting and resistant to heat because they are made from high-quality raw materials.
As a customer-focused organization, we provide a comprehensive range of Engine Mounts. Our Engine Mounts are made from high-quality raw materials sourced from reliable vendors. These Engine Mountings are thoroughly tested in terms of dimensions, performance, and construction strength at every stage of production. The Engine Mounts are ideal for the following vehicles: trucks, tractors, mills, heavy machines, and equipment.
Engine mountings play a significant role in NVH. A good design can significantly reduce cabin noise, gear rod vibration, and steering vibration. We are working on a design that will produce less than 20 decibels of cabin noise in WOT testing. In terms of vibration and noise, the combination of engine, transmission, and roll restricts or conforms.